CSO's FUTURE OF CYBERSECURITY AND TRUST SUMMIT
July 20 @ 1:00 pm

-

July 22 @ 5:00 pm

EDT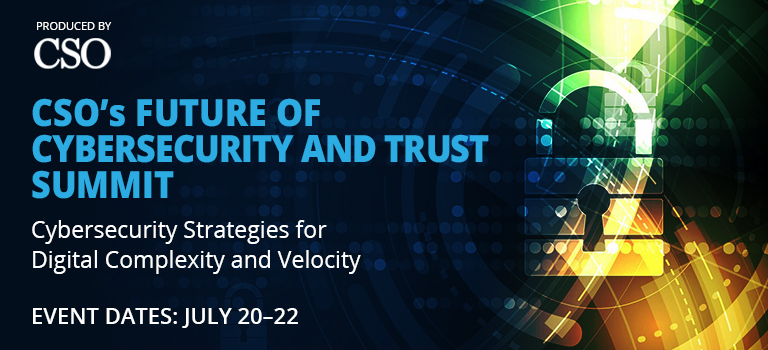 The speed and complexity of technology has never been greater.
As organizations invest in software and technology infrastructure to drive digital business, security executives face a stark reality: digital infrastructure is advancing with velocity and complexity – and cyberthreats are too. CSO, the tech industry's premier voice on cybersecurity, presents a summit where top executives and leaders will provide up-to-the-minute insights on how to successfully safeguard your organization. Over three days, IT professionals will learn, contribute to the conversation and source new solutions providers.
Understanding the Market Forces Driving Current Cybersecurity Threats
Adapting Security Resources to the Complexity and Velocity of Digital Infrastructure
Building More Visibility and Security Across IT Resources
Evaluating Emerging Security and Risk Management Technologies
CSO's FUTURE OF CYBERSECURITY AND TRUST SUMMIT
The high stakes of cybersecurity continue to increase and evolve – with no end in sight.
Heightened defenses need to meet and exceed threats.
In this era, what factors are driving change in how organizations need to manage security and risk? How are organizations securing – and improving visibility – for clouds and digital infrastructure? What strategies are effective in reskilling existing security talent, and recruiting for the skills most needed right now? Which emerging security technologies are showing promise to better manage risk? And what leadership lessons are valuable when managing so much technology change?
You and your team will learn the answers from an array of executives and leaders whose combined experience isn't found anywhere else. You will benefit from the Summit's live keynote talks, roundtable discussions, breakout sessions, and more. Three days: July 20-22. More than 100 hours of valuable content.
Related Events