Cyber Security Healthcare & Pharma Summit
September 29, 2022 @ 8:30 am

-

5:00 pm

PDT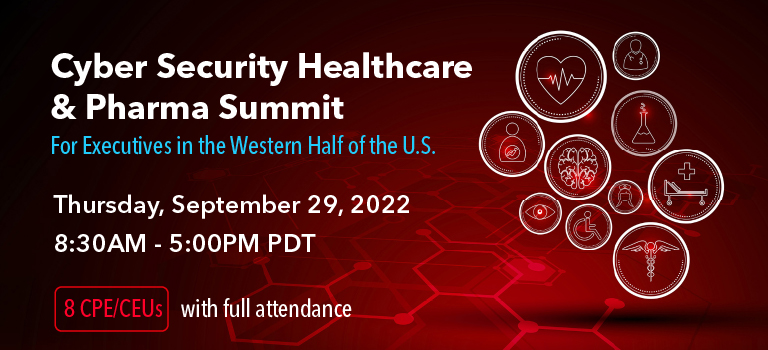 The Cyber Security Healthcare and Pharma Summit is a one-of-a-kind conference designed for exclusively invited Healthcare Executives in need of innovative solutions to protect their company's critical data & infrastructure. This next-generation event will provide a virtual space for business leaders to learn about the latest cyber threat landscape and evaluate the industry's most cutting-edge solutions by directly connecting them with emerging and established solution providers, subject matter experts and powerful cyber thought leaders.
Interactive Panel Discussions
Evolving Cyber and Privacy Risks in a COVID-19 World
How COVID-19 has shifted the cyber threat landscape
The compliance risks that come into play as organizations adapt their systems and processes to meet needs during the pandemic
Privacy as a partner, instead of prevention
The Healthcare & Pharma Breach: Who's the more prominent target, the patient or the company?
Who are the VAPs (very attacked people), and why are they being targeted?
Top insider threat risks Healthcare organizations face in 2022
Analysis of the Top Healthcare Breaches of 2021
State-specific Privacy Rules, GDPR, and proposed changes to the Privacy Rule – How will this affect the landscape of future breaches?
Ransomware: Its Climbing Impact on Healthcare Organizations
The state of ransomware today: some of the latest cyber threats and cybercriminals' changing tactics
How to identify warning signs and attackers leave trails
Creating a well-run security operations center for healthcare systems and data to protect from ransomware
Related Events