Election Security
June 6, 2023 @ 1:00 pm

-

2:00 pm

EDT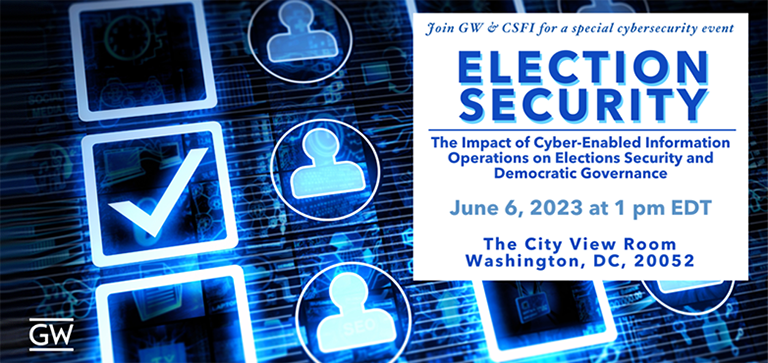 Join us for our panel discussion on the impact of cyber-enabled information operations on elections security and democratic governance.
Join us in our nation's capital for a critical discussion about the growing threat of disinformation and deception operations against election security.
Hosted by GW's Cybersecurity Strategy and Information Management (CSIM) Master's Program and the Cyber Security Forum Initiative (CSFI), this event aims to create a dialogue around the capabilities of modern adversaries to disrupt decision-making at the highest levels of national security.
Our distinguished panel of defense contractors, government officials, and cyber security professionals will explore the use of social media as a tool for impairment, disruption, and disabling of the adversary's ability to lead and direct operations.
Through a realistic video scenario developed by experts in various fields of warfare, including members of the military, the intelligence community, and the private sector, the audience will be immersed in a simulated environment where democracy is contested through deception, ideology, and cyber operations to disrupt elections' security.
As AI technology advances (like the developments with Chat GPT, etc.), it will become increasingly difficult to distinguish between real and fake information. This will make it easier for bad actors to manipulate public opinion and interfere with democratic processes like elections. As a result,it is critical to develop strategies to anticipate and counter advances in disinformation campaigns.
A cocktail reception will follow the event.
Register now to reserve your seat. Enjoy a beautiful view of Washington, DC, network, and become part of this critical discussion.
WELCOMING REMARKS:
Dr. Paul de Souza, Cyber Security Forum Initiative (CSFI) President/Founder
Connie Uthoff, Director, Cybersecurity Strategy and Information Management Master's Program
MODERATOR: Connie Uthoff
PANELISTS:
Vishal Amin, Head of Security Solutions for Microsoft Federal, Presidential Scholar, Former Special Operations Officer, and F/A-18 Hornet Pilot (USMC).
Nick Andersen, Chief Operating Officer, Invictus International Consulting; Nonresident Senior Fellow, Atlantic Council
Madison Horn, Founder & CEO at RoseRock Advisory Group | Former U.S. Senate Nominee | Global Cybersecurity Leader
Kim Gajewski, Director for Cyber Policy and Strategy at the U.S. Department of Homeland Security
Glenn S. Gerstell, Senior Adviser at CSIS | National Security Writer | Board Member | Former General Counsel of the National Security Agency (NSA)
Lt. Gen. Michael Groen (ret.), USMC, Former Director of the Joint Artificial Intelligence Center, DOD, former Deputy Chief of Computer Network Operations of the National Security Agency (NSA)
Mike Smyczynski, LtCol (ret.) USMC, Senior Information Operations Professional