FBC Presents – Tinker AFB – AFCEA OKC Technology Day & Golf Tournament • Tinker Club – Tinker AFB • Oklahoma City, OK
September 12, 2019 @ 10:00 am

-

1:30 pm

EDT
General Information
15th Annual Information Technology Day | Thursday, September 12, 2019
Network with information technology, cybersecurity, communications, engineering, and contracting personnel at the only Technology Day held at Tinker AFB each year.
Hosted by the Oklahoma City Chapter of the Armed Forces Communications & Electronics Association (AFCEA), Technology Day features exhibits and live demonstrations, plus Tinker- and industry-focused cybersecurity briefs. We expect more than 250 cybersecurity professionals, electronics engineers, engineers, IT specialists, software engineers, software developers, software testers, system administrators, and more to attend.
This is your ONE opportunity to meet face to face with these Tinker AFB decision makers and prospects in 2019.
Tinker AFB's current and future leaders look to each year's Technology Day for insight into their next big technology and cybersecurity moves. Will you be there?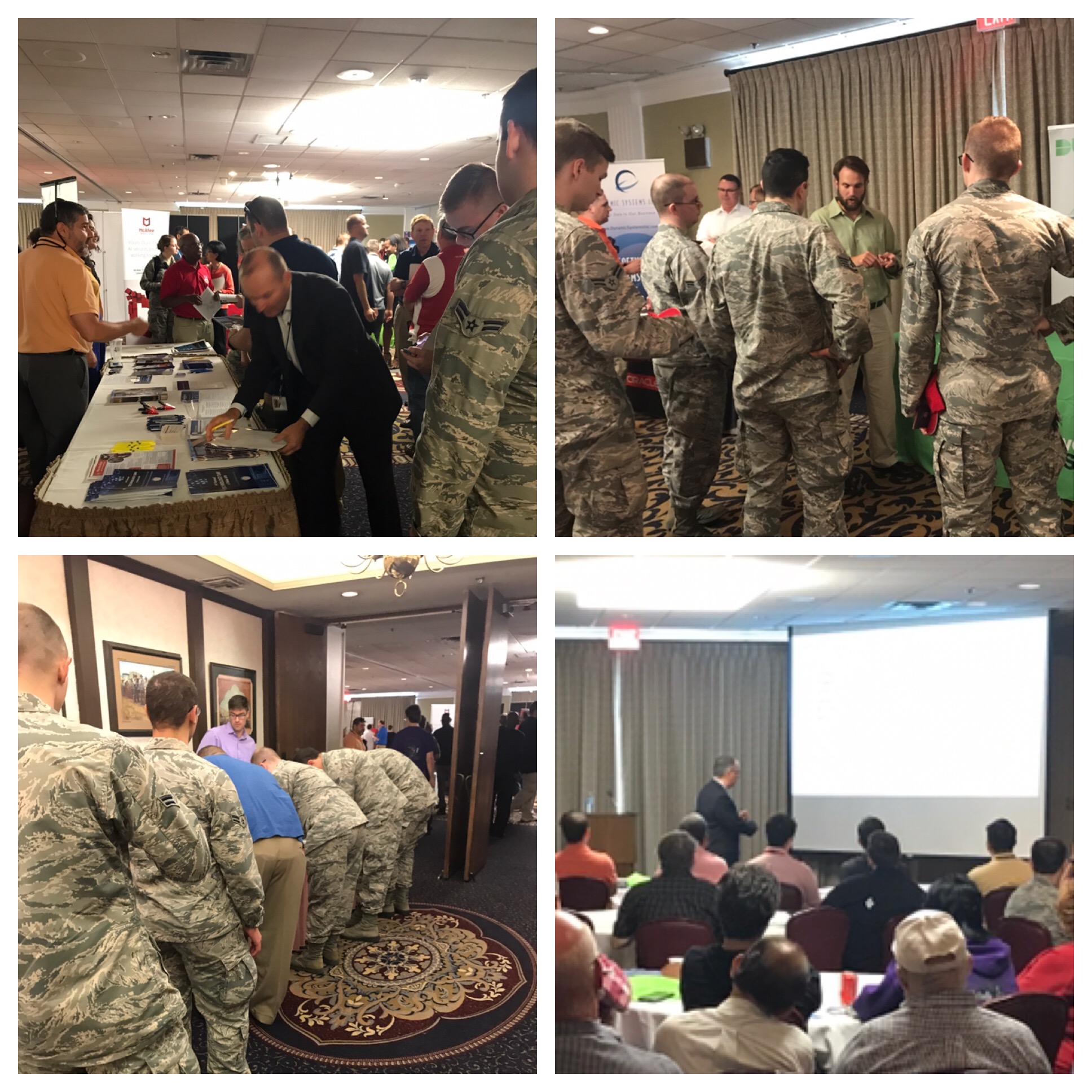 Golf Tournament | Wednesday, September 11, 2019
Fore!
Arrive a day early to spend the day on the links at the Tinker Golf Course. It's an unparalleled chance to connect with decision makers on the AFCEA OKC board, its members and Tinker AFB personnel.
Tee times and sponsorship packages are available. Both support the chapter's annual scholarship drive. For more information, contact Alex Santa-Pinter at afcea.okc.chapter@gmail.com
About AFCEA:  Oklahoma City
AFCEA International is a non-profit membership association serving the military, government, industry, and academia as an ethical forum for advancing professional knowledge and relationships in the fields of communications, IT, intelligence, and global security.
The Oklahoma City Chapter has more than 300 members at Tinker AFB and is recognized annually as a model chapter. Its membership consists of CIOs and 0-to-6-level professionals at Tinker AFB from the 72nd Air Base Wing, 72nd Communications Squadron, DISA, the 552nd Air Control Wing, and more.
About Tinker AFB
Headquartered at Tinker, the Air Force Materiel Command's (AFMC) Oklahoma City Air Logistics Center (OC-ALC) is the worldwide manager for a wide range of aircraft, engines, missiles, software, and avionics and accessories components. It is one of only three Air Force ALCs in the nation. The host unit at Tinker AFB is the 72d Air Base Wing (72 ABW) which provides services and support for the Oklahoma City ALC and its tenant organizations. Tinker is also home to the Navy's Strategic Communications Wing One (TACAMO), with 1,300 active-duty sailors and 100 contractors that provide maintenance, security, operations, administration, training, and logistic support to the Navy's E-6B Mercury aircraft fleet. The Mercury aircraft enables the US President and the Secretary of Defense to directly contact submarines, bombers, and missile silos enforcing the country's national security through nuclear deterrence.
Location
Tinker Club – Tinker AFB
3900 Mitchell Drive Bldg 5603
Oklahoma City, OK 73145
Setup time: 8:30 am – 10:00 am
Exposition: 10:00 am – 1:30 pm
Teardown: 1:30 pm – 2:00 pm 
The event will be held in the main ballroom at the Tinker Club. Signs will be posted near the club and posters will be inside the club to help guide you to the ballroom.
Real ID Act:  New Visitor Access Requirements

Acceptable Photo Identification:
For US Citizens: Effective July 21, 2014, under the REAL ID Act of 2005, agencies, including NIST, can only accept a state-issued driver's license or identification card for access to federal facilities if issued by states that are REAL ID compliant or have an extension.
Exhibit Staff Security InformationMUST BE A US CITIZEN TO ATTEND
You must complete an FBC Security Form and submit to FBC by the due date given below. Please click the link below to go to our Verisign® secured on-line security information form. You will also have the option of downloading our printable security form and submitting the information by fax. Admittance to the event cannot be guaranteed if we do not receive the information by the due date.
You do not have to stop at the Visitors Center. Our Event Access List (EAL) will be at the gate. Please be prepared to show your current Drivers License to the guard at the Air Depot Gate and reference the "Event Access List (EAL) for the Technology Day at the Tinker Club".
SECURITY DUE DATE:  Friday, August 30, 2019 by 12:00 p.m. EST
IMPORTANT NOTICE
Exhibitors who fail to comply with the security requirements may be denied access to the event site by the hosting agency.
FBC will not be responsible and will not provide refunds to exhibitors who are denied admission to or dismissed from the event site due to failure to comply with the security instructions.
Conference Information
Dress Code: Suggested Dress for this event is business casual
Hotel Information
Midwest City: (approximately 5 minutes from Tinker AFB)

Sheraton Midwest City Hotel at the Reed Conference Center 5750 Will Rogers Road Midwest City, Oklahoma 73110
Phone: 405-455-1800
SpringHill Suites by Marriott Midwest City 5400 Main Street, Del City, OK 73115   Phone: 405-604-0552

Candlewood Suites Midwest City 5300 Main Street, Del City, OK 73115   Phone: 405-604-5300
Downtown Oklahoma City: (approx. 15 minutes from Tinker AFB)
Courtyard by Marriott 2 West Reno Avenue Oklahoma City, OK 73102  Phone: 405-232-2290
Sheraton Oklahoma City Hotel 1 North Broadway Avenue Oklahoma City, OK 73102
Staybridge Suites Downtown Oklahoma City 120 South Lincoln Blvd, Oklahoma City, OK 73104  Phone: 405-602-8830
Contact
If you have questions about the logistics of this event ON THE DAY OF THE EVENT please contact the event manager Dennis O'Neill's cell phone at (310) 699-1140 or email dennis@fbcinc.com. Prior to the day of the event please direct any questions to your FBC Account representative
.