It's no secret that the more central communications technology becomes in the day-to-day lives of individuals, enterprises, and governments, the more cybersecurity threats have begun to proliferate. Recent news of advanced persistent threats compromising everything from big-name enterprises to government networks has led to a need for verifiably skilled cybersecurity professionals across the entire computing landscape.
Credentialing plays a critical role in keeping government networks cyber-secure. In fact, in the U.S. military, certification is oftentimes not optional. The Department of Defense requires that those working on government systems hold specific industry-recognized certifications in their areas to ensure that networks are operated by individuals who have confirmed their ability to maintain them, and to identify and manage potential security threats as their job role demands.
Though certifications are required for many tech-related job roles in the military, professional industry credentials are important for military service members beyond just meeting requirements. They can help guide active duty service members up through the ranks, and aid with a seamless transition into a sometimes difficult civilian job market.
Keith Boring, Program Director at the U.S. Navy Credentials Programs Office, spoke to this fact in the context of the many credentialing opportunities the Navy makes available to those who are enlisted. "It makes a more professional sailor, a better Navy, and a stronger nation," Boring said.
As a part of his role, Boring is the administrator for the Navy's Credentialing Opportunities Online (COOL) program. The program, founded in 2006 at the Navy's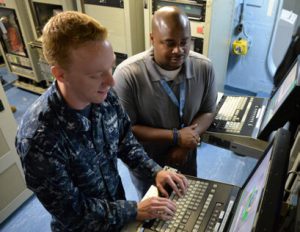 Center for Information Dominance, offers sailors the opportunity to get career-certified in areas corresponding to their Navy ratings and occupations, guiding them to certifications pertaining to, for instance, collateral duties or non-rating-specific work. According to Boring, if the credential that an individual pursues is related to his or her duty, the Navy will cover the cost of the credential exam.
Sailors can also access Navy Learning and Development Roadmaps (LaDRs), which help to map out sailors' career paths. Credentialing is central to these LaDRs, which guide people in the Navy through the appropriate course of certifications that will enable them to rise through the ranks, get promoted, and make their careers within the Navy successful.
Because certifications hold clout not just in the military world, but also confirm and validate those same skills in the civilian world, these career roadmaps also set up those who participate to extend their careers into post-Navy life. Whether women and men who have spent time in the Navy are looking for careers in military contracting, government positions, or the enterprise job market, industry-recognized certifications let an employer know that the skills a person used in the Navy will be applicable in a civilian work environment.
With more than 1,850 civilian certifications now funded, the COOL program has, in the last decade, helped many achieve their career goals both in the Navy and civilian life. And the past decade is one that has seen no small number of changes to the employment landscape, especially regarding technology in general, and cybersecurity specifically.
In the civilian IT landscape, trends like mobile computing have come on fast over the past ten years, and so has the need to secure mobile networks from potential infiltration. As cybersecurity threats have gotten more sophisticated, so have the technical demands of even entry-level IT staff. Military roles can call on an enlisted individual to work on equipment that civilians might never see, or use older networking technology to get the job done while deployed in different parts of the world. Those enlisted often have the same technical acumen as top-tier civilian IT pros, but don't always have experience that maps directly onto a civilian job role, or a job description that's explained in the same vernacular as in the civilian world. Industry credentialing fills this gap by providing a sort of translation between military and civilian cybersecurity skills.
"Credentialed service members demonstrate to prospective civilian employers that their skills are on par with their civilian peers," Boring said. "By improving force readiness through initiatives like Navy COOL, we're presenting sailors with another key to career success that will benefit them while they're in the Navy and beyond."
With a recently launched app, the COOL program is itself evolving to meet the changes of the technological landscape. It is also continuing to build and evolve its messaging – letting those in the Navy know that whether they're pursuing cybersecurity or a different profession, credentialing is central to their work in the Navy and their employment beyond it.
"The rewards of Navy COOL have never been more important than they are today," Boring said.