We often hear at DoD conferences, industry days, and news feeds the question, "How do we inject more innovation into DoD capability development?" Often, the response is collaboration or innovation; however, this isn't a clear answer because terms such as "innovation" are ambiguous concepts themselves. There are many ways to define "innovation" for the DoD, but for the purpose of this article, let's define it simply as: "distinctive and novel software, hardware, or analytical processes that meet a DoD requirement."
This definition is narrower than most but focuses on how industry can help the DoD identify unique and cutting-edge capabilities developed across industry and rapidly bring them to bear to meet existing Warfighter needs. To achieve this goal, we need to address several hurdles:
Identification of innovative solutions or approaches
Infrastructure for evaluation, integration, and rapid prototyping
Transition to fielded system
So, what are steps we can take as industry to identify and bring to the DoD innovative solutions? Though there are numerous approaches, Parsons Corporation has found success in acting as an "Innovation Incubator" to evaluate, prototype, and demonstrate innovative new capabilities.
The process starts by building a matrix of partnerships across commercial business, academic researchers, traditional government contractors, and government organizations. By having dedicated technical staff do targeted market research within key domains, we can identify capability developers with incredible emerging technology that are unknown to the DoD. Many of these capability developers are small businesses or academia, with little experience engaging with Government acquisitions. While the Government does an admirable job doing outreach to the small business community, many commercial vendors with extraordinary technology never see the request for information (RFIs) released because they don't know where to look.
In our experience, when the Innovation Incubator performs the legwork to identify these companies, several benefits result both for them and for the small business. First, the small business can be mentored on the DoD acquisition process and walked through contracting nuances, which can be difficult for businesses not familiar with the process. Second, the small business can utilize the Incubators' infrastructure and processes to participate in rapid prototyping events. This allows the team to demonstrate to the Government tailored demonstrations of new technology already running in DoD environments. The benefits may include improvements to the Incubators own products, as they integrate new technology and expedite its delivery to the customer. But most important, by constantly looking across the market for new technologies, the Incubator achieves an expanded awareness of market trends and evolutions in technology.
Given how long the acquisition process can take, it's imperative that Industry stays ahead of the curve of emerging technology and, when applicable technology is identified, works to onboard it as quickly as possible while it is still relevant.
Having an established infrastructure is key to quickly bring innovative technologies to the DoD once they are identified. But what should the infrastructure be comprised of to provide maximum benefit to both our partners and our customers?
 There are many ways this can be configured, but, within Parsons, we have a found success building a series of labs we call the Parsons' Lab for Development and Integration, or "PALADIN Labs." These labs function as the incubation engines for Parsons and our partners' technologies. In many of our labs we have built partnerships with our government customers, allowing us to host both commercial and Government hardware and software. Each lab is equipped with everything required to evaluate emerging and existing capabilities, integrate capabilities, and rapidly prototype new ones.
This approach includes the physical hardware required to host testing and integration exercises, as well as relevant DoD software architectures like Big Data Platform (BDP) and Rainmaker, or Program of Record software baselines. In our PALADIN Labs, much of the hardware and networking is provided by our commercial partners, who view this as an opportunity to test their latest products in demanding DoD test scenarios. The lab space is built to both host in person integration events and provide remote access for an increasingly distributed workforce. This flexibility is critical with the nature of work shifting to include more remote, geographically dispersed employees – as well as the global nature of the DoD's mission.
As we onboard new partners into our labs, we provide uniform evaluation of their technology using known DoD requirements, realistic data sets and operating conditions. This standardization ensures that emerging commercial technologies meet real-world DoD needs. Many small-business and academic partners don't have access to either the customer requirements or the operational data sets; accessing these within the PALADIN Labs provides the means to evaluate their technologies in operational conditions. The results of these tests can be used to drive their internal development. After evaluation, the capabilities that can properly process the operational data and meet program requirements become candidates for prototype integrations. These integrations can be done via joint Internal Research and Development (IR&D) programs or Cooperative Research and Development Agreements (CRADAs) with the Government, or they can even be funded as an experiment on an existing contract. The goal of the prototype is to show initial integration between the new innovative capability and the existing DoD system. By taking this step early and showing the customer the technology already integrated, we can significantly reduce the risk to the customer of funding a full integration. This allows them to move quickly and shortens the acquisition cycle, allowing us to get technology to the field more rapidly.
Finally, to be successful, this process must be executed in close partnership with the DoD organizations that will receive the new technology. From the beginning, the Government needs full visibility into the market research and the evaluations of emerging technology, so they can have confidence in the conclusions reached. Additionally, as trust is built with customers, we have found that there are additional opportunities to transition technology between customers. The PALADIN Labs are designed to host several ongoing customer projects simultaneously. In several cases, we have identified overlapping requirements between customers and have brokered introductions that allowed shared investment and an improved return on investment for each of the customers. For example, Parsons utilized our labs to facilitate collaboration between the IC and the Army's Science and Technology (S&T) customers to integrate a cyber capability developed for the IC into an Army S&T program.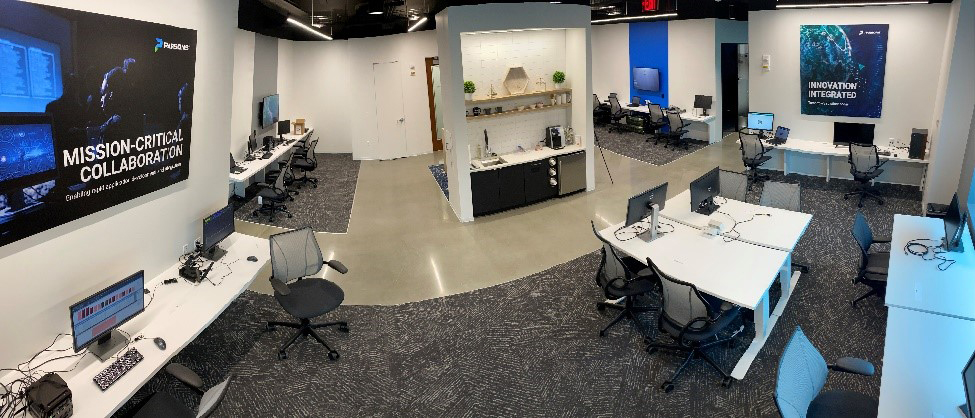 As capabilities reach a certain level of maturity, our experience has shown that having established transition processes help move capabilities from our own labs into Government facilities for final testing and integration prior to deployment. This usually requires a means of transferring approved media from our labs to our customers' labs and integration spaces. We discovered that by aligning the deployment method of the target technology with the deployment method of the customer we can greatly reduce the challenges of quickly installing to the Government environment (e.g., VMs for customers utilizing VMWare and Kubernetes for customers who have moved to containers). In addition to testing within government environments, capabilities should also be brought to formal evaluation and testing events. Parsons has found events such as PNTAX, NETMOD, Global Defender, and Project Convergence are great venues for this, but there are many others.
The process to identify; evaluate; integrate; and, when possible, transition emerging technologies is a continual process that we as industry should use consistently to bring relevant capabilities to meet DoD requirements and address current and emerging Warfighter needs. Two important principles of the approach are a focus on the end user (Soldier) and our collaborative approach across all stakeholders/partners from our commercial partners (large and small), academia, and customers. These two principles drive the focus on what is best for the user, regardless of whose technology is used, to deliver innovative solutions to our DoD partners.

Dr. David Tyler  Ryan Gabriele